John Cena and Lena Headey Join 'Rise of the Teenage Mutant Ninja Turtles'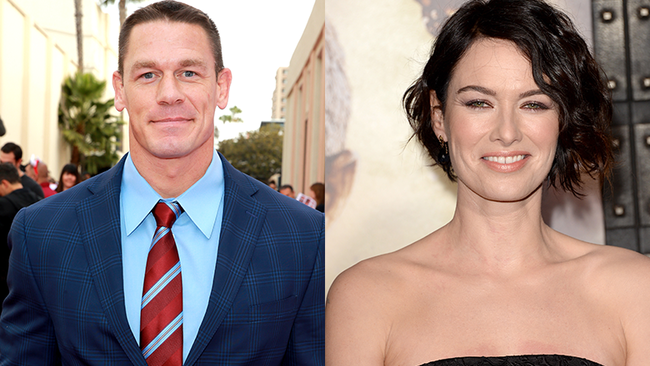 The Teenage Mutant Ninja Turtles are back! Nickelodeon just launched a brand new series Rise of the Teenage Mutant Ninja Turtles and it looks epic. The new iteration of the popular cartoon follows Raph, Leo, Donnie, and Mikey on all-new adventures as they seek to unlock the mystical secrets of New York City. From the tallest skyscraper to the dankest sewer drain, these four brothers are in for a wild ride. As they learn to tap into mystic, ninja powers they never knew existed, Raph, Leo, Mikey, and Donnie must learn to work together and navigate the perils of the modern age and hidden realms in order to fulfill their destiny to become a team of heroes.
While this definitely sounds awesome, it's not all going to be fun and games (and pizza!) for your favorite turtles. They're going to face off against some seriously evil villains over the course of the 26 episode Rise of the Teenage Mutant Ninja Turtles series. It's been announced that John Cena and Lena Headey will voice two sinister characters that will face off against the Turtles. Cena will play Baron Draxumm, "an alchemist warrior mutant who seeks to turn all of humanity into mutants." Few details are known about Headey's character, Big Mama, beyond being a mutant spider.
Cena and Headey aren't the only big names popping up in villainous roles on Rise of the Teenage Mutant Ninja Turtles, either. Rhys Darby, John Michael Higgins, Tom Kenny, and Johnny Rotten will voice Turtle enemies Hypno-Potamus, Warren Stone, Albearto, and Meat Sweats respectively.
Nickelodeon released an action packed trailer all about the villains challenging the Turtles this season. Check it out below:
Cena and Headey join an already star studded cast. Omar Miller voices Raph. Ben Scwartz will bring Leo to life. Josh Brener is the talent behind Donnie and Brandon Mychal Smith stars as Mikey. Kat Graham rounds out the main cast as the upbeat and wisecracking April.
You can catch Rise of the Teenage Mutant Ninja Turtles Saturday mornings at 9:30am ET/8:30am CT, starting October 6th.
Photo: Getty